Categories:
NCW Newsletter – Medical Cannabis Dispensary
CANNABIS NEWS
Legislation was approved to allow dispensaries to sell edible cannabis products. Edibles will be in full effect come November however there has already been an increase in edible products. Edibles are great for consuming cannabis orally with a controlled dose. Edibles are great for pain and relaxation but can be sedative so make sure you have water and food ready before you consume..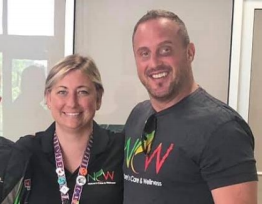 Budtender of the Month
Congratulations to Bonnie who has been a shining star at NCW.
We asked her a few questions – Lets meet Bonnie!
Q. Why did you choose NCW?
A. The simple answer is because NCW is the best dispensary in Maryland! NCW offers the highest quality of customer service, product education and has the most qualified staff in the state!
Q. What do you love most about what you do?
A. I love exploring the cannabis plant and finding new ways to benefit others. I am beyond honored to work with such a fabulous team and have the chance to make a difference in our patient's lives.
Q. Is Maryland your home state?
A.YES!!! I am a Marylander born and raised. I am proud of our state and absolutely LOVE our flag!
JOINT EFFORT
There has been a lot of discussion about the Joint Effort and what that is. Nature's Care and Wellness is working with 8 other dispensaries in what is called The Joint Effort. We believe in keeping business local and family owned. These 8 other dispensaries are on board to work together to keep medicine prices affordable, spread the word and build community.
NCW CANNAMOM
BY BONNIE O'CALLAGHAN
Moms…. June is the month to make sure we are not only taking care of our children and attending all of their end of the year celebrations but also taking time for self-care. For us to be the best mothers possible we need to be sure our bodies are strong and healthy. A fabulous new product we have available at NCW is the Blissiva vape pen line. The Blissiva pens are designed by women specifically for women. They have high
terpene levels blended perfectly with low THC to bring our bodies and minds to a balanced calm place. This is what we need when we are pushing ourselves to be everything for everyone. Love yourselves and take time for you!

DID YOU KNOW?
What is cannabis extract? We keep hearing shatter and budder and wax and so many more. Cannabis extracts, or concentrates come loose (raw) or packaged in a vape pen. There are a variety of ways to use loose concentrates. The Technicians at NCW will explain
everything to you and it will open up a whole
Latest Posts
Cookies Cannabis Only at NCW
By:
Ncw Staff
September 28, 2022